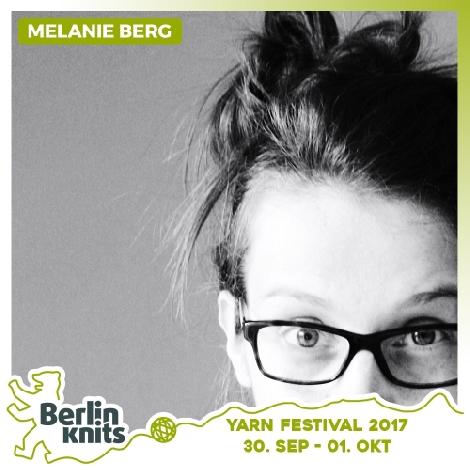 Tücher und Farbtechniken
Ticket, Melanie Berg
LANGUAGE: GERMAN

YOUR WORKSHOP TICKETS INCLUDES A WEEKEND PASS => FREE ADMISSION ON SATURDAY AND SUNDAY TO BERLIN KNITS

SATURDAY, September 30th 2017, 10.30 -13.30 h

Wer seine Kenntnisse in Farbtechniken wie Intarsien, Streifen oder Hebemaschen etwas auffrischen oder vielleicht ein Beginner auf diesem Gebiet ist und einmal hineinschnuppern möchte, ist in diesem Workshop genau richtig!
Lerne mehr über die verschiedenen Arten, mit Farben zu spielen und wähle aus vier Tüchern von Melanie eines aus, das Du selbst stricken wirst: Ashburn, Moonraker, Ropedance oder Nangou. Wir besprechen und probieren die verschiedenen Techniken, die in diesen Tüchern benutzt werden und Du erhältst eine gedruckte Kopie der Anleitung, zusammen mit vielen hilfreichen Tipps und Tricks, die Melanie Dir mit auf den Weg gibt.
Vorkenntnisse: Grundlegende Strickkenntnisse
Bitte mitbringen: Stricknadeln und etwas Wolle in mehreren Farben zum Ausprobieren!
89,00 EUR