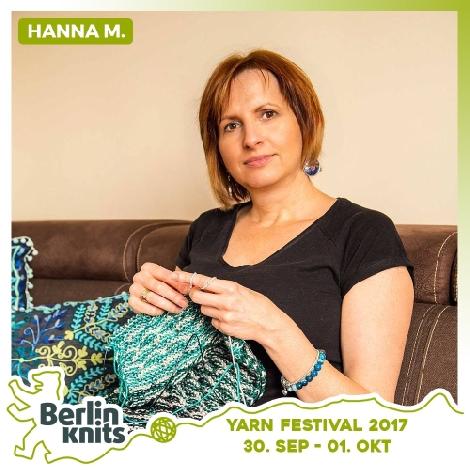 Knitting Tips and Tricks
Ticket, Hanna Maciejewska

YOUR WORKSHOP TICKETS INCLUDES A WEEKEND PASS! FREE ADMISSION ON SATURDAY AND SUNDAY TO BERLIN KNITS

SUNDAY October 1st, 10.00 to 13.00

Sprache/language: Englisch/english

No matter whether one has just started to explore the wonderful world of knitting or decades of practice under their (knitting) belt to show, there is always something new to learn!
Whether we knit as a relaxing hobby, to make unique gifts for friends and family, or as a sideline to earn some extra money while taking care of the family, every knitter can benefit from improving their craft in so many ways!
There are new methods to improve our knitting proficiency, innovative solutions to common problems, various ways to level up our knowledge, new tools and materials our mothers and grandmothers never dreamt of, and smart finishing tricks for a true professional look for the knitwear we create.
How can we organize and plan our knitting projects, so we can actually knit faster?
How to choose the right materials and tools for every project?
What are the most common knitting mistakes, how can we avoid them, and how can they be fixed?
How to produce a smooth and even fabric? How to even up the messy edges and take care of all those ends?
There are so many things to know around knitting before it comes to actual knitting, and the better we are familiar with them, the more time we have to knit.
79,00 EUR