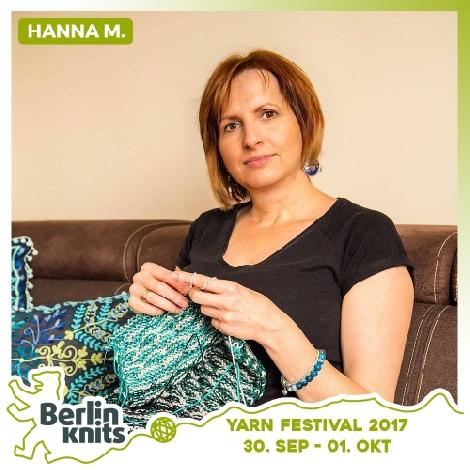 Basic Shawl Anatomy
Ticket, Hanna Maciejewska
YOUR WORKSHOP TICKETS INCLUDES A WEEKEND PASS! FREE ADMISSION ON SATURDAY AND SUNDAY TO BERLIN KNITS

SATURDAY, September 30th, 10.30 to 13.30

Sprache/language: Englisch/english

No matter whether you are a fairly inexperienced knitter or have decades of practice, you will have to agree that shawls are fun and fast to make, and fun to wear, too.
Shawls are the perfect way to add style and elegance to your wardrobe! They are great for using up precious skeins of special yarn and learning fun new techniques on the way while creating a stylish and versatile addition to your wardrobe or a cherished gift for loved ones.

In this class, we will get acquainted with a variety of basic shawl shapes.
We will explore different approaches to shawl construction by creating miniature samples of the most popular classics: triangle, crescent, semi-circular and other shapes. We will learn how the placement of increases and decreases creates the overall shape, and how adding different stitch patterns and color combinations personalizes the shawl. Finally, we will cover a few easy lace stitch patterns and the classic picot edging for a finishing touch.

For this class, you will need - bitte mitbringen:
Plain fingering or sport weight yarn in a solid, light color, and circular needles in an appropriate size (for shawls, usually a slightly larger size than recommended on the ball band, which is mostly geared to the denser fabric of socks and garments).



79,00 EUR