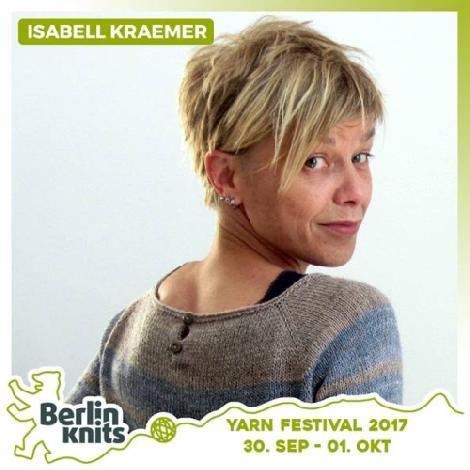 Ärmel, von oben eingestrickt
Ticket, Isabell Kraemer
LANGUAGE: GERMAN

YOUR WORKSHOP TICKETS INCLUDES A WEEKEND PASS => FREE ON ADMISSION ON SATURDAY AND SUNDAY TO BERLIN KNITS

SATURDAY, September 30th 2017, 10.30 -13.30 h

Ihr seid vertraut mit den Grundtechniken des Strickens? In diesem Workshop möchte ich Euch in ein paar Techniken einführen, ein Strickstück von oben nach unten zu arbeiten - eine coole Art der Konstruktion, die es Euch ermöglicht, während des Strickens Euer gutes Stück anzuprobieren und gegebenenfalls auch anzupassen. Wir werden verschiedene Techniken besprechen und ich hoffe, Euch einige hilfreiche Tipps und Tricks mit auf den Weg geben zu können (vielleicht lerne ich ja aber auch mehr von Euch, als Ihr von mir ;)
Wir besprechen verschiedene Arten verkürzte Reihen zu stricken (warum und wo sie eingesetzt werden); provisorischer Anschlag; verschiedene Zunahmen,
Anschlag in der Mitte unseres Strickstücks; wie ein von oben eigesetzter Ärmel gearbeitet wird; u.v.m….kurz gesagt: alles was Ihr braucht um erfolgreich einen Pulli von oben nach unten zu stricken.

Bitte mitbringen: Schreibblock und Stift, Garn und passende Rundstricknadel und Nadelspiel (bitte nicht allzu dünnes Garn - es gibt keine Extra-Punkte für Fleiß ;), Sicherheitsnadeln oder Markierer zum Einhängen, Stopfnadel, Häkelnadel und ein bisschen Restgarn.
89,00 EUR