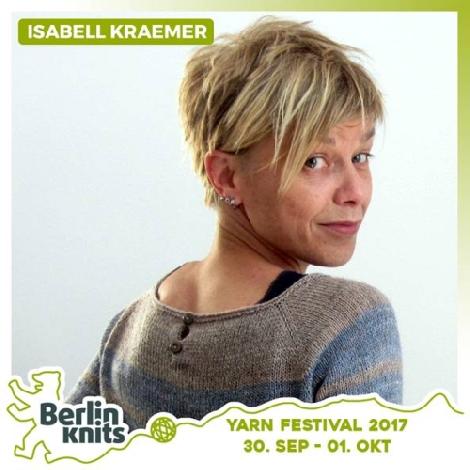 Top Down set-in sleeves
Ticket, Isabell Kraemer

DAS WORKSHOPTICKET BEINHALTET EIN WOCHENENDTICKET! MIT KAUF DES WORKSHOPTICKETS HAST DU FREIEN EINTRITT AM SAMSTAG UND AM SONNTAG ZU BERLIN KNITS

Sprache/language: Englisch/english

SONNTAG, 1. Oktober 2017, 10.00 bis 13.00 Uhr

You're confident with basic stitches and construction techniques? In this workshop, I'll try to guide you through some techniques to expand your skills and take your knitting to the next level - I'll take you on a (knitting) trip from the top down - a method that enables you to try your sweater on from time to time to check the overall fit while you're knitting.
We'll discuss different ways of knitting a sweater from the top down and learn some useful tricks (maybe I'll learn more form you than you from me ;)
You'll learn different ways to knit short-rows (why and where we use them); provisional cast-on; different increases; casting on in the middle of our knitting; how to work a set-in sleeve from the top down; etc…in short: all you need to know to manage a top-down sweater.

You'll need: notepad and pen, knitting yarn and matching circular needles and DPNs (dk or worsted weight will work best), safety pins or locking stitch markers, darning needle, crochet hook and some waste yarn.
89,00 EUR