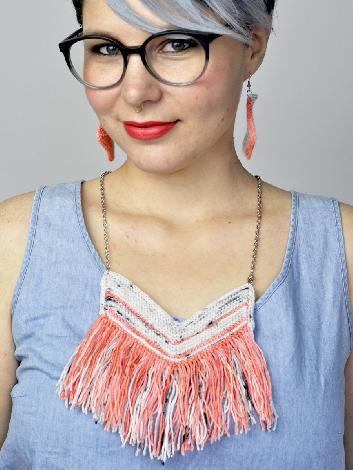 Knit Jewelry
Ticket, Susanne Sommer
DAS WORKSHOPTICKET BEINHALTET EIN WOCHENENDTICKET! MIT KAUF DES WORKSHOPTICKETS HAST DU FREIEN EINTRITT AM SAMSTAG UND AM SONNTAG ZU BERLIN KNITS

SONNTAG, 1. Oktober 10.00 bis 13.00 Uhr

Sprache/language: Englisch/english

Knit a stylish statement necklace, sophisticated choker, simple bracelet or fun earrings, while exploring simple colorwork and shaping techniques (increases/decreases, short-rows), adding pom poms and fringe and transforming the knit and crochet creations into jewelry, using basic jewelry-making supplies.
Yarn, embroidery thread, reflective and metallic thread, beads, chains and even wire can be used, and knitters are encouraged to let their imagination run wild and create their own one-of-a-kind designs or follow the jewelry pattern recipes provided.

Materials to bring: Small amounts of yarn or other thread/string/wire , plastic/metal chains, small knitting needles (e.g. fingering and 2.5mm DPNs).
Basic jewelry making supplies will be available in class, but if you want to use something specific, please bring it along.
59,00 EUR